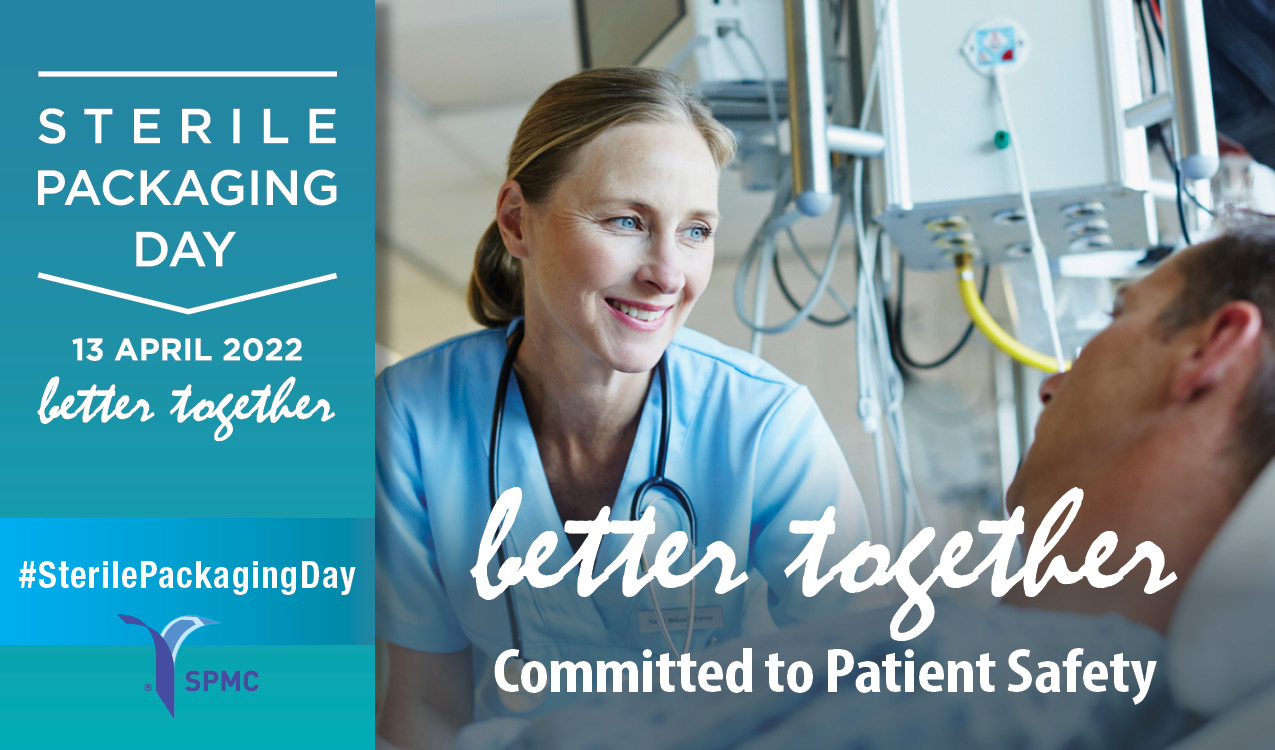 Sterile Packaging Day is returning April 13, 2022 with the theme, "Better Together."
Technipaq is excited to participate in Sterile Packaging Day 2022, a holiday created by the Sterilization Packaging Manufacturers Council (SPMC) to recognize and celebrate those who work together to deliver innovative, safe and sterilized medical devices and supplies to healthcare and medical experts in order to provide excellence in patient care.
In honor of this year's Sterile Packaging Day, the SPMC will be hosting a blood drive through the Red Cross April 14 at MD&M West and Technipaq is pleased to join in giving back. VP of Sales and Marketing says, "[The blood drive] resonates with me from those experiences and current global events. The idea for a blood drive at MD&M during Sterile Packaging Day allows us the opportunity to bring it all together and be united…point of care, patient." You can read the full article regarding Sterile Packaging Day and the blood drive in MDDI here.
In addition to participating in the Red Cross blood drive at the MD&M West Conference in Anaheim, we want to share the ways Technipaq is committed to the three pillars the holiday is founded on: Patient Safety, Peace of Mind, and Supply Chain Strength.
Patient Safety
Patient Safety is the heartbeat behind all of our sterilized and flexible packaging initiatives. As a proven industry pioneer and innovator, Technipaq has been trusted to provide these flexible and sterilized packaging solutions to the world's leading healthcare, medical device, diagnostic, and life science companies for more than 35 years. Our commitment to patient safety has always been, and will always be, the most important force steering our ship.
We adhere to the most stringent requirements for the highest level of sampling, inspection, documentation and training to produce extremely reliable packaging products and solutions for the medical device, diagnostic and pharmaceutical markets we serve. We do the testing in our in-house laboratory and conduct trials and validations as well as short pilot runs to ensure seal strength, porosity, burst, abrasion and puncture resistance.
Peace of Mind
At Technipaq, we understand that our innovative products and leading technology represent more than fancy medical packaging. When doctors, nurses, EMTs, caregivers, and even patients find themselves administering or receiving treatment from medical devices and tools that came packaged in one of our pouches, they can move forward with a peace of mind that they are protected from contamination.
We convert Tyvek®, films, foils, surgical papers, and laminates into high barrier, ETO, radiation and autoclave style packages. All of our materials are available in rollstock, lid or pouch form with up to eight–color flexographic printing. We can meet any barrier, strength or sterilization method, and all of our materials are produced under strict ISO 13485 standards.
Supply Chain Strength
As an ISO 13485 certified manufacturer with more than 100,000 square-feet of production and warehousing space, Technipaq produces and maintains an extensive selection of custom stock laminates, in both peel-able and fusion-seal formats. This allows us to produce orders of any size on-demand, with minimal strain on the struggling supply chain.
Additionally, as an authorized converter of DuPont™ Tyvek®, the installation of one of the industry's most sophisticated air-knife coating production lines equips Technipaq with the unique ability to also apply proprietary coatings to DuPont™ Tyvek® healthcare product offerings in-house, eliminating long lead times due to supply chain delays.
Better Together
There is nothing quite like a global pandemic to highlight the importance of the medical packaging industry that often goes unnoticed otherwise. This year for Sterile Packaging Day, Technipaq would like to recognize and express gratitude for the SPMC and its ongoing efforts to develop sterile packaging standards and test methods as well as provide guidance and education. In the spirit of "Better Together," we are honored to be a part of such a collaborative and interconnected industry for over 35 years now. We look forward to a long, bright future of pioneering and innovating new and improved sterilized and flexible packaging initiatives for medical devices and tools, with patient safety, peace of mind, and supply chain strength at the center of all we do.
To learn more about Sterile Packaging Day 2022 and download your own celebration toolkit, click here.
A proven industry pioneer and innovator, Technipaq has been providing flexible, sterilized packaging solutions to the world's leading healthcare, medical device, diagnostic and life sciences companies for more than 35 years.