Barrier Pouches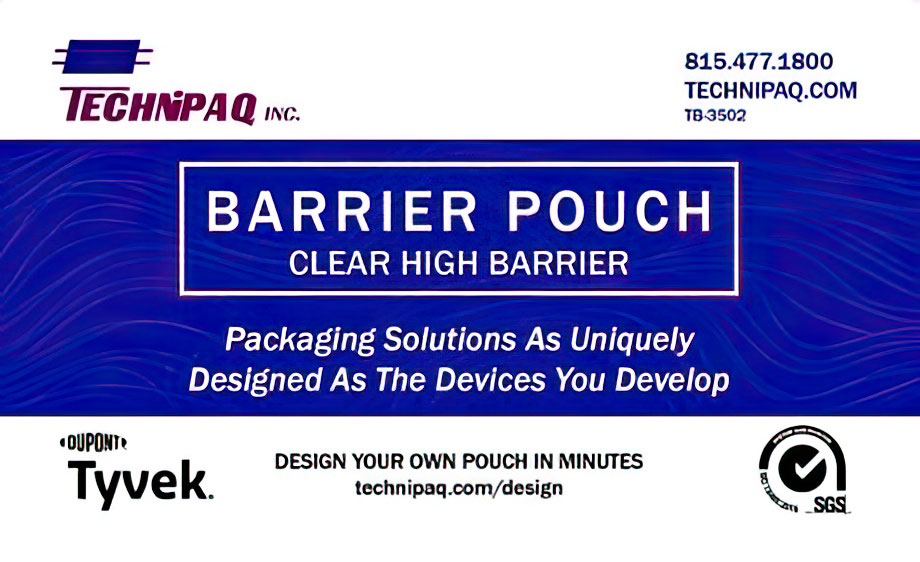 Foil Laminate and Pre-Formed Peelable and Non-Peelable, Vented and Non-Vented, Barrier Pouches for Medical Device, Diagnostic, and Pharmaceutical Applications
Technipaq's foil laminates and pre-formed barrier pouches are available in peelable, non-peelable, and zipper styles for sterile medical, diagnostic and pharmaceutical applications, providing excellent moisture and gas barrier along with puncture resistance. All pouches are produced under strict ISO 13485 Standards.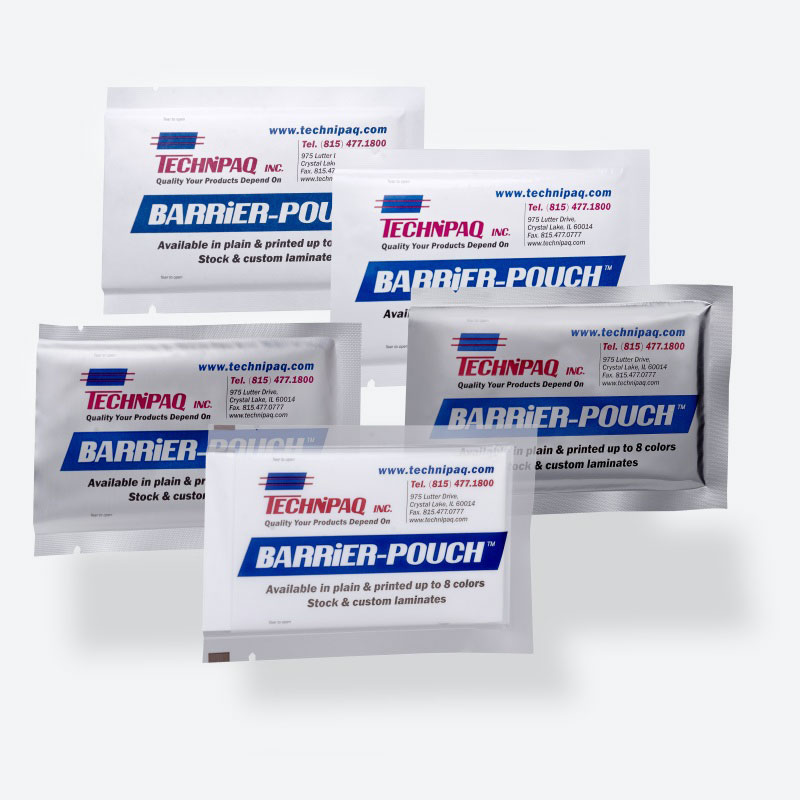 TO MEET YOUR SPECIFIC REQUIREMENTS
We offer a variety of foil and barrier laminate structures in a wide range of sizes.
CAPABILITIES
easy-tear open or peel features
small or large quantity runs
unprinted or printed pouches in up to eight colors
variety of film and foil laminations available for quick turnaround
zipper closures
peel and reseal labels
vented and non-vented
MATERIALS
Specialty films
Foil laminates (Nylon, PET, OPP)
Clear hi-barrier (PVDC, AlOx, and SiOx)
Foil laminated Tyvek® vent pouches for ETO and autoclave sterilization
Bright out, dull out, or white and other color exteriors
STERILIZATION OPTIONS
Radiation
Autoclave
ETO with breathable vent header
Retort
VALIDATION & TESTING SUPPORT
We adhere to the most stringent requirements for the highest level of sampling, inspection, documentation and training to produce extremely reliable packaging products and solutions for the medical device, diagnostic and pharmaceutical markets we serve. We do the testing in our in-house laboratory and conduct trials and validations as well as short pilot runs to ensure seal strength, porosity, burst, abrasion and puncture resistance.