MD&M West

MD&M West, in Anaheim, California, brings together approximately 20,000 medtech engineers, business leaders, disruptive companies, and innovative thinkers to create powerful solutions and life-changing medical devices.
After two years away, Technipaq was thrilled to trade a few days of midwest April showers for the California sunshine this past spring. As one of a select few DuPont™ Tyvek® distributors in all of North America, it was a pleasure to speak face to face again with tradeshow attendees about their medical packaging needs.
Since the last time we gathered at the Anaheim Convention Center, a global pandemic turned the entire industry upside down. Through a myriad of challenges thrown our way—from supply chain restraints to labor shortages—Technipaq has remained steadfast in our prioritization of patient safety by way of sterilization of medical device packaging. As an ISO 13485 certified manufacturer with more than 100,000 square-feet of production and warehousing space, we have been able to continue producing and maintaining an extensive selection of custom stock laminates, in both peel-able and fusion-seal formats. This has allowed us to produce orders of any size on-demand, with minimal strain on the struggling supply chain.
We also introduced one of the industry's most sophisticated coating production lines, allowing us to apply proprietary coatings to DuPont™ Tyvek® healthcare product offerings in-house. While many continue to be affected by supply chain disruptions, Technipaq is pleased to carry DuPont™ Tyvek® in stock.
MD&M West was an excellent opportunity to reconnect with people of the medical industry and hear their successes as well as their challenges over the last two years. We look forward to the opportunity to meet the needs of the medical community in new and innovative ways.
Sterile Packaging Day 2022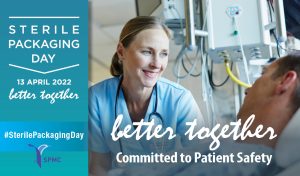 April 13, 2022 marked the 2nd annual celebration of Sterile Packaging Day, a holiday introduced in 2021 by the Sterilization Packaging Manufacturers Council (SPMC). The theme for this year's Sterile Packaging Day was 'Better Together,' as a means to honor and celebrate the sterile packaging industry's collaborative spirit.
For Sterile Packaging Day 2022, SPMC members hosted a blood drive through the Red Cross on April 14 at MD&M West, one of the largest medical device events in North America, as a tangible way to illustrate the 'Better Together' theme, and give back as a community.
The Technipaq team present at MD&M West in Anaheim were honored to join in. You can learn more about the ways Technipaq is committed to the three pillars Sterile Packaging Day is founded on (patient safety, peace of mind, and supply Chain strength) in our blog post here.
Upcoming Trade Shows
Technipaq is thrilled to gather in person again to learn and discuss all things medical device packaging and share latest products and coating offerings. We will be exhibiting at one last conference for 2022 before we look forward to a packed 2023 schedule! Technipaq will be at MD&M Minneapolis 2022 Conference in Minneapolis, MN, November 2-3, 2022. Please get in touch if you would like to arrange a meeting during the event!
A proven industry pioneer and innovator, Technipaq, located in Crystal Lake, IL, has been providing flexible, sterilized packaging solutions to the world's leading healthcare, medical device, diagnostic and life sciences companies for more than 35 years. To learn more or request a product sample, please contact us here.